$200 goes a long way when you're buying a blender. Compared to below $100 budget options, you get better quality, extra power, and a few more bells and whistles tacked on. You won't be entering Vitamix territory, but you'll get a respectable blender nonetheless.
Let's take a look at our roundup of the best blender under $200, starting with the best option – the Ninja BN801 Professional Plus Kitchen System.
Best Blender under $200 Product Reviews
Ninja BN801 Professional Plus Kitchen System – Our Recommendation
The Ninja BN801 is an exceptional appliance from a beloved brand. It's a full-sized blender and comes in an attractive silver and black finish. 
As a blender cum food processor, you receive a processor bowl, a chopping blade, a dough blade, pro extractor blades, two single-serve cups, and the main food jar along with the main base.
The BN801 has an excellent design. It does equally well at both simple and complex blending tasks. You can make smoothies, crush ice, chop veggies, puree, knead dough, and much more. 
The 1400W motor, combined with the extractor blades, blends mixtures evenly. The final food consistency is near perfect. The 5 "Auto-IQ" preset programs make common tasks easier.  
This blender is easy to clean, being dishwasher safe. However, storing it could be a problem. It's tall and comes with multiple accessories. You probably won't be able to tuck it away in a small kitchen cabinet.
Excellent quality, sturdy build.
Consistent blending performance.
Simple to clean.
NutriBullet ZNBF30500Z Blender Combo
The NutriBullet Blender Combo is one of the more popular appliances in the NutriBullet range. 
It has the signature curved NutriBullet design, with 6 easy press buttons on the side. The blender comes with a tamper, two smaller carry cups, the main jar, and, of course, the base.
With 1200W, the NutriBullet packs quite a punch. It won't struggle with blending tasks. Ice gets crushed to snow, and most veggies liquefy at the high setting. 
There's a special "Extract" button that you press if you want to extract juices from fruits and vegetable fibers. A drawback of this blender is that the low-speed settings are fast. If you require precision control for foods like hummus, steer clear.
The NutriBullet Blender Combo is of average weight and height. You won't have trouble stowing it away and moving it around. It's also straightforward to clean, either by hand or in the dishwasher.
Smooth texture.
Will pulverize ice.
Easy to clean.
Slow speeds not very slow.
Loud.
Instant Ace Plus Cooking Blender, Hot and Cold
The Instant Ace Plus Cooking Blender looks stylishly modern. It has a sleek silver body with black trims. 
The appliance has 10 quick-program buttons on the side and a basic LCD. You can press a button and have the blender carry out a blending task automatically. It's fast and easy.
The 1300W motor and stainless steel blades do an okay job. You won't have trouble with making purees, smoothies, milkshakes, sauces, and peanut butter. But don't expect super-fine mixtures. 
The heating element is a bonus, useful when you want to cook soups and other hot foods. You can't control the speed and temperature manually, though.
This blender is very heavy and hard to move. It is a challenge to clean too. It's not dishwasher safe and the blades are attached to the container.
Easy to get going and use.
The heating element allows you to cook food.
Good build quality.
A small challenge to clean.
Average performance.
Heavy.
The KitchenAid K150 is a good-looking blender from a popular brand. The base has a deep grey finish. The food jar on top is of clear plastic. It has a 4-speed dial – 3 manual speeds and a single ice crushing option. 
The food jar is not BPA-free (possible Prop 65 chemical hazard), which is a major drawback.  
We like the KitchenAid blender because it has a simple design. It's easy to handle, the 700W motor has just enough power for everyday kitchen tasks. 
It automatically figures out and maintains the right speed. It is not a professional-grade blender, though. If you need serious blending performance, you need to look elsewhere.
You need to clean this blender by hand. It is of average size and convenient to store.  
Clean design, easy-to-use.
Automatically maintains optimal speed.
Ice-crushing option.
Low-power motor struggles with hard tasks.
Prop 65 warning.
Buyer's Guide - What to look for
Up to $200 blenders are generally of good make and last a good few years. A 1-year warranty is the industry standard and not a lot, but you probably won't need it. The Ninja BN801 Professional Blender is especially sturdy.
When you want to crush ice and other solid foods, you need a strong motor. We recommend anything past 1000W. The Ninja BN801 comes with an extra-powerful 1400W motor.
Most $200 blenders come with sturdy, high-quality stainless steel blades. The NutriBullet Blender Combo has extractor blades that do an especially good job of mashing food. 
The Ninja BN801 has a larger blade that can handle food processing tasks. It even comes with chopping and dough blades.  
Accessories provide just a little added convenience. For up to $200 blenders, you usually get at least a single-serve cup along with the usual food jar. The NutriBullet BN801 comes with 2 go-to cups as well as a tamper. 
Heavy-duty blenders are, well, heavy. They need to be to remain stable during tough blending and food processing, but the same weight makes them hard to move around. 
The Ninja BN801 exceeds expectations, though, and is very lightweight at just 4 pounds.
You need to be able to control your blender's speed to make food of the desired texture. Ease of use is also important. 
The Instant Ace Plus blender comes with 10 one-touch buttons. It automates most cooking tasks, no manual fiddling necessary.
Usually, the bigger the better when it comes to jar capacity. If you want to make food or drinks for your whole family, you'll need the Ninja BN801 or the NutriBullet Blender Combo.
You can choose blenders with a plastic jar or a glass one. Glass is generally supposed to be the healthier choice. 
But BPA-free plastic jars, like the one on the Ninja BN801, are non-toxic, long-lasting, less prone to breaking, and easy to clean.   
Are Expensive Blenders Worth it?
Blenders come in varying price ranges, from under $100 to under $800 US.
$300+: $300+ blenders are professional-grade They can make food for many people and are extremely versatile. They can whip up smoothies just as well as purees. These blenders have very powerful motors that make mincemeat of solids. You can use them to make lump-free smoothies and other finely-textured food. An example of a popular high-end blender is the Vitamix 5200 Professional Blender.
$100-200: Blenders up to $200 are the kind of blenders cooking hobbyists use at home. They can make food for a whole family, and the better ones double as food processors. They do a great job of blending foods and crushing ice, if not quite as good a job as a high-end blender.
Below $100: Below $100 blenders are the budget options, the kind used by people who don't cook much. They are of mediocre quality, with only the best ones lasting a solid few years. They are good at non-demanding blendings – like making smoothies – but struggle at making fine foods and ice crushing.
Are Mid-Range Blenders for You?
There is a difference between a high-end blender and a mid-range (up to $200) one, but it's not a very big one. 
In general, high-end blenders make slightly more consistent blends, are of sturdier make, and make food for more people. Mid-range blenders do almost as well in all these departments.
If you cook often or on a special vegan diet, you need a versatile blender – preferably something that makes smoothies, chops food, and mixes dough. 
In such cases, some mid-range and all high-end blenders will suit your needs. Budget blenders will be a hit-and-a-miss. They may do some tasks well but fail miserably at others.  
The Ninja BN801 Professional Plus Kitchen System is hands down the best blender under $200. It's durable, looks good, and is easy to use. 
It packs in plenty of power and will make food of your desired texture. The extra accessories you get with the blender are a bonus.
Alternatively, the NutriBullet Blender Combo is also a good pick. It works almost as well. Further, it's not as expensive as the Ninja BN801.  
Add Your Heading Text Here​
Add Your Heading Text Here​
Add Your Heading Text Here​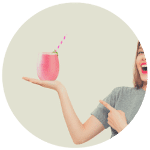 Hi, I am Charms, a self-confessed smoothie fanatic!  Here I will share some of my favorite smoothie recipes, tips and guides and gear reviews.   Learn more .