The refrain of penny pinchers, college kids, and thrifty shoppers everywhere: what's the best I can get, for the least amount of money?
And there are few kitchen tools that are as wide ranging in price and quality as blenders. There are a million to choose from, and it's hard to tell which are worth the money.
So, in this article our blending buffs aim help you find the best blender under $150 for your kitchen. Read on for down to earth advice and concise, thoughtful reviews.
Best Blender under $150 Product Reviews
Ninja Professional Plus Blender with Auto-iQ, BN701
The Ninja Professional Plus is out top choice because of its combination of reasonable price, moderate versatility, and ease of use.
The Ninja Auto-iQ programs are incredibly convenient and safeguard the motor from overheating. You can set it to blend up your recipe and walk away without fear of impinging on the machine's overall longevity.
Please note, however, that the blades are large and unwieldy. Accidental cuts are very likely for those with unsteady or slippery hands.
What's special about it:
Auto-iQ programs provide consistently perfect texture
Great for a variety of cold and iced blending
Total Crushing Blades highly efficient at crushing ice and tough ingredients
Exceptionally powerful
Easy to clean
Simple to use
Auto-iQ programs protect motor
Hands free operation
Great budget option
Wimpy warranty
Large blades easily mishandled
Oster Blender | Pro 1200 with Glass Jar, 24-Ounce Smoothie Cup and Food Processor Attachment
One of the least expensive on our list, this Oster model is also one of the more versatile and well made.
The borosilicate glass jar is designed to handle extreme heat and cold, is shatter proof, and stays looking clean and unscratched.
And the moderately powerful motor is made entirely of metal and backed by a 10-year guarantee.
As a budget pick for home chef's who need power and jar space, the Oster Pro 1200 is a great entry level blender.
What's special about it:
Durable, Duralast all-metal motor with 10-year guarantee
Vortex created by dual direction blades pulls ingredients in for increased efficiency
Quality, borosilicate glass jar can handle cold and hot blending
Very powerful
Includes pre-programmed cycles
High quality jar and motor construction
Great budget option
Warranty is just for motor
Replacements parts often out of stock
Unhelpful customer service
NutriBullet ZNBF30500Z Blender Combo 1200 Watt
The NutriBullet is another blender with good versatility at a bargain price. It's powerful enough for a variety of jobs, capable of cold and hot blending, and easy to clean up after.
We especially appreciate the array of jar sizes which allows for convenient morning grab-and-go, as well as larger, more involved recipes.
However, the combination of short and uncomprehensive warranty with the lack of pre-sets can lead to a quick motor burnout through improper use.
If operated carefully, NutriBullet provides a decently versatile blender at a good price for the home chef.
What's special about it:
Stainless steel blades with cyclonic action to pull ingredients in and increase efficiency
Convenient and versatile, countertop and bullet blender in one
Vented lid allows for hot and cold blending
Very powerful
Easy to clean
Moderately versatile
Wimpy warranty
No pre-programmed cycles
Jusseion Smoothie Blender
The Jusseion is one of the most robust personal sized blenders available. It has a pre-set to prevent motor burnout and increase convenience and efficiency. 
And the customer service is consistently stellar for any issues that arise after purchase.
The major downside of the Jusseion is the lack of versatility. It's a little small and is not capable of blending hot liquids.
For the family that needs a blender for daily smoothies and not much else, it makes a great choice. 
But the reduced range of functions make it inappropriate as a stand in for a countertop blender.
What's special about it:
6-pronged blades efficient at crushing tough ingredients
Convenient, hands free blending with timer and auto blend
Suction cup feet stop "walking" and prevents spills
Very powerful
Easy to clean
Hands free operation
Lifetime technical support
Inexpensive for the quality
Wimpy warranty
Less versatile
Ninja BL480D Nutri 1000 Watt Auto-IQ Base for Juices, Shakes & Smoothies
Ninja is one of the cheapest options for 1000-watt blenders. It's good for occasional smoothies and other cold beverages.
The Auto-iQ is a nice touch for this model. And the pre-set combined with good power for its size makes it a definite improvement on the ultra-cheap options like the Magic Bullet.
However, the low versatility and tendency of the small Ninja blenders to decline in performance within a year or two of regular use keeps this model at the bottom of our list.
Though it is the cheapest on the list as well, for the increase in durability and functions we think spending an extra $25 on a better blender is worth it.
What's special about it:
Auto-iQ cycles increase efficiency, longevity, and convenience
Powerful enough to crush ice and frozen fruit
Wimpy warranty
Not capable of blending hot liquids
Loud operation
Buyers Guide - How to Buy the Best Blender Under $150
Many blender options in the $150 range just aren't built to last. However, there are a few key features that can help you gauge the durability and longevity of a blender sight unseen.
Higher quality blenders will often have:
Longer warranties
More comprehensive warranties
All-metal motors
Copolyester plastic or borosilicate glass jars
Pre-programmed cycles that help prevent motor burnout
Lower quality blenders that crap out sooner generally have:
Short warranties
Limited coverage warranties
Lack of customer support
Polyester plastic or regular glass jars
A single speed, or lack of pre-sets
Blenders in this price range are usually low-mid range in power. That means anywhere from 250 watts to 1200.
The less powerful the blender, usually the cheaper. But as power decreases, so does performance and versatility.
We recommend choosing a blender that is at least 1000 watts, which will be able to handle tougher ingredients like ice and frozen fruit.
Besides their price, all of the models on our list are chosen because they are on the higher end of the power scale.
The Ninja Professional Plus is a notable outlier, and clocks in at 1400 watts.
Size, number, & capacity of jars
Have a big family, or lots of roommates to share your blender with? A model that comes with large capacity jars, like the Ninja Professional Plus or Oster Pro 1200 may be useful.
Or go for a blender bundle that comes with jars in different sizes, like the NutriBullet ZNBF30500Z or Ninja Professional Plus.
Easy cleaning: Is it dishwasher safe?
If you're thrifty with your money, you're probably also thrifty with your time. 
Picking a blender that is dishwasher safe will make clean up fast and easy, as well as lessen the likelihood of slicing your fingers on sharp blades in the dishwater.
That's why all the blenders on our list today are dishwasher safe.
Versatility: Do you plan to use the blender for other things?
Versatility is another feature of blenders that takes a hit when shopping for a less expensive model.
If you just want a compact smoothie blender to make your morning commute easier, then you probably don't need to go for a countertop with a huge jar and capabilities for hot liquids, nut butters, etc. 
For example, the Ninja BL480D is extremely convenient.
But if you want to be able to do recipes which require a wider range of capabilities the price will often go up quite a bit. 
The Ninja Professional Plus and NutriBullet ZNBF30500Z are great examples of highly versatile blenders in the hundred dollar price range.
Oster's Pro 1200 is a nice in between for price and versatility, and is very affordable.
Are you starting from zero with your kitchen? Then perhaps a blender that comes with a slew of accessories will make your cooking experience easier.
Many blenders come with handy tools like tampers, extra jars, and to-go lids. NutriBullet and Ninja have a variety of bundle options and inexpensive ad-ons available.
So, what's the best blender for under $150? That depends on what you need it for!
Folks with larger families, or a desire to use their blender for a wide range of kitchen applications should check out the Ninja Professional Plus. It has a big jar, pre-programmed cycles, easy clean up, and an impressive amount of power.
Whereas those seeking the best budget price for a moderately versatile blender will want to consider the Oster Pro 1200 for its borosilicate glass jar, compact size, and powerful little motor.
Whether you're looking for a one-and-done smoothie maker, or a jack-of-all-trades kitchen helper there's an inexpensive blender out there for you! And with a little help from yours truly, we hope you find it.
Happy budget-friendly blending!
Add Your Heading Text Here​
Add Your Heading Text Here​
Add Your Heading Text Here​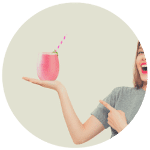 Hi, I am Charms, a self-confessed smoothie fanatic!  Here I will share some of my favorite smoothie recipes, tips and guides and gear reviews.   Learn more .