Vitamix and Blendtec are the two biggest brands in the blenders industry. Vitamix is such a sensation that some people build whole kitchens – and lifestyles – around it. Blendtec is arguably almost as popular. It's the blender that can blend anything under the sun, including and up to an iPhone!
So should you buy your new blender from Vitamix or Blendtec? Read our Vitamix vs Blendtec comparison guide below to figure out which brand best matches your needs. 
Vitamix vs Blendtec, Our Top Picks
Vitamix first appeared on the scene in the 1930s and shot to popularity over the next few decades. 
This brand introduced the (then-pioneering) concept of nutritious foods and healthy lifestyles to many people. 
Fast-forwarding to 2021, Vitamix now enjoys cult status in the US. It is the go-to brand for many professional bars and kitchens big and small.  
Blendtec first came to the scene in the 1970s. It started as a wheat mill manufacturer and slowly made its way into blenders. 
In 2006, Blendtec shot to fame and became a household name thanks to the super-viral "Will it Blend?" marketing campaign. 
The ad cemented the brand's place as the maker of monster blenders – the kind that could reduce a solid iPhone to a fine powder without breaking a sweat.  
Features Comparison - Blendtec vs Vitamix
Below, we compare some top Vitamix and Blendtec models and both brands' best features.
Budget Blenders : Blendtec Total Classic (10 speed) vs. Vitamix E310 – Winner – Blendtec
Both the Blendtec Total Classic and the Vitamix E310 are entry-level, sub $400 blenders. They represent the best of their respective brands on a budget.
Ease of use: The Total Classic has one-touch buttons and preprogrammed cycles. The E310 has knob controls and no automatic cycles. We find the former to be easier to use.
Performance: Both blenders perform about the same. The E310 offers lightly more consistent blending results.
Others: The Total Classic comes with a WildSide+ jar. It has a clever design, which means you barely need to use a tamper. If you use the E310, you need to use the included tamper.
The Blendtec Total Classic wins out here. It looks better than the E310, is easier to use, and performs well.
Mid-Range Blenders : Blendtec Designer 650 vs. Vitamix 5200 – Winner – Vitamix
The Designer 650 and the Vitamix 5200 are both classic blenders. They don't skimp out on features and are mainstays in their respective lineups.
Ease of use: The Designer 650 has 6 blending cycles and a slider control interface. The 5200 has no programmed cycles and has traditional Vitamix manual controls.
Performance: The 5200 is one of the finest blenders in the market, performance-wise. And Vitamix has built it like a tank. The 650 comes close.
Others: The Designer 650 comes with an extra twister jar, suitable for small portions. The 5200 only has a standard-sized jar.
The 5200 is the winner in our books on account of its sheer performance and durability.
High-End Blenders : Blendtec Designer 725 vs. Vitamix A3500 – Winner – Vitamix
The Blendtec Designer 725 and the Vitamix A3500 are high-end premium blenders. You'd find them in a professional setting or on cooking shows.
Ease of use: Both the 725 and the A3500 come with advanced features like preprogrammed cycles, timers, and touch interfaces. The A3500 even has wireless connectivity.
Performance: There's little to separate the two in terms of performance. Although the A3500 edges out the 725 slightly in terms of longevity and long-term reliability.
Others: The 725 has 100 precision speed settings and a monstrously-powerful 1800W motor. The A3500 has infinite variable speeds and an about 1650W motor.
We prefer the A3500 because of its all-inclusive 10-year warranty. Besides that, though, there's very little to choose between the two.  You might also be interested in our review of the a3300 vs a3500 models.
Other Feature Comparisons
Vitamix blendes start with 1HP (~750W) motors and go all the way up to 4.2 HP (~3100W). Blendtec blenders begin from 1560W and go up to 1800W. Motor power matters, but it's only one factor of many determining a blender's ultimate effectiveness.    
Low-end Vitamix blenders don't have preprogrammed cycles. This means you always have to be near them. All Blendtec blenders come with programmed cycles.
Vitamix favors traditional manual controls – with flip switches and speed dials. It's not necessarily a bad thing. Blendtec is modern. Its blenders have either soft-touch buttons or touch controls.
Vitamix offers all sorts of jar options, from plastic to stainless steel to glass. Blendtec only offers plastic jars. You get jars of various shapes and functions from both brands.
Jar sizes range from small to large. Small-sized jars include single-serve travel cups that you can carry with you outside. Mid-sized jars will serve 3-4 people and large jars (75oz+) can hold food for many.  
You can buy optional accessories for either brand. Top Vitamix mentions are an Under Blade Scraper, Perfect Blend Smart Scale and Interactive App, and the Classic Tamper. Blendtec options include a GO travel bottle, the Spoonula, the Vented Gripper Lid, and the Nut Milk Celery Juice Bag BOGO.
Vitamix blenders can also process food by default. Further, you can purchase the 12-Cup Food Processor Attachment for better results. Compatible with Ascent and Venturist Series models, the attachment will mince, slice, knead, shred, mix, and chop. All Blendtec blenders double as food processors. You use the Pulse setting for this function.
Vitamix warranties range from 3 to 10 years. They are hands down the best in the business, covering everything from shipping to labor. Blendtec warranties are more limited – you have to cover shipping. They range from 1 to 10 years.
Both Vitamix and Blendtec are premium brands. You won't find a cheap blender in their lineup – unless it's refurbished. Countertop blenders start at the $300 mark. Professional blenders go past $1000.
Vitamix and Blendtec offer self-cleaning options with their blenders. You can also put their jars in the dishwasher for quick cleaning. Vitamix blenders have sharp blades, which sometimes makes the jar hard to clean.  
Vitamix has standard stainless steel blades – they are sharp and sturdy. Blendtec possibly makes the strongest blades in the business. They are 80% thicker than average and 10x stronger. Being dull blades, they are easy to clean.
Vitamix has a safety shut off feature that prevents the motor from overheating. Blendtec makes thick blades that don't chip off or break easily. High-end Blendtecs will display an error message in case of problems.
Vitamix's Ascent blenders are "smart" appliances. They have "SelfDetect" containers that communicate with the blender base. They also have wireless connectivity, and touchscreens. Blendtec high-end variants have touchscreens and error detection. But they don't have wireless connectivity as of now.
Vitamix and Blendtec machines are powerful, which makes them loud. The A3500 is quieter than average, though. It operates at 84 decibels at max speed, which is a steady murmur more than a roar. The Blendtec 800 is the quietest blender in the world. It has a sound enclosure and operates at only 67 decibels – a quiet background hum. 
Refurbished Options Available from Each Brand
Any Vitamix or Blendtec will cost you a serious amount of money and is generally a worthwhile investment. 
But what if you can't afford to blow away hundreds on a blender that you're barely going to use? And you still want a quality appliance from one of these two top-tier brands? You could get a refurbished option instead.  
A refurbished blender is a reconditioned appliance. The company services, repairs, and remakes it to be as good as new. 
Refurbished blenders come from rejected stock. Some people return their blenders after a few months or years, on account of defects. Sometimes it's just because they didn't like them.
The company then resells them at a rock-bottom price. Refurbished blenders are generally as good as new. They come with warranties besides.
We can wholeheartedly recommend Vitamix reconditioned options. They are as good as new, very rarely have defects, and are extremely cheap to boot. 
You can expect them to go the distance. Here are Vitamix certified reconditioned options available now:
Certified Reconditioned S50.
Certified Reconditioned Explorian Series. 
Certified Reconditioned 5300. 
Blendtec refurbished options are more of a hit and a miss. Some of them are excellent and long-lasting. 
Others give out within a few months of use. Further, Blendtec doesn't truly take much off the base price. Here is a list of the available refurbished options from this brand:
Total Blender.
Classic 575.
Designer 625.
Designer 725.
Vitamix edges out Blendtec slightly in the performance and durability department. Blendtec is better in terms of jar design and ease-of-use. As a home user, either option will satisfy you. In professional settings, we'd recommend Vitamix over Blendtec.
Use a Vitamix if –
You want a blender that could last a lifetime.
You want the peace of mind that only an all-inclusive warranty can give you.
You want to make exceptionally-fine smoothies and other blends.
Use a Blendtec if –
You want oodles of preprogrammed options even on a budget.
You don't want to use a tamper all that much.
You love modern aesthetics.
Add Your Heading Text Here​
Add Your Heading Text Here​
Add Your Heading Text Here​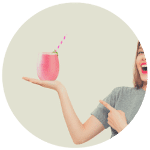 Hi, I am Charms, a self-confessed smoothie fanatic!  Here I will share some of my favorite smoothie recipes, tips and guides and gear reviews.   Learn more .