Ninja vs NutriBullet. The two indisputable kings of the personal blender world. The new and innovative NutriBullet is less expensive, but the Ninja has the experience. So, which is better?
While the true answer is really case-by-case, it's no surprise that our overall winner is the Ninja brand as the company has spent more than 100 years perfecting their appliances.
But read on for a full comparison of features, blender models, and list of products available from each company!
Ninja vs Nutribullet : Which One is Better?
We have divided up our comparisons by price range:
Key Differences - Face to Face Feature Comparisons!
NutriBullet is consistently priced about 10-20% lower than Ninja. It makes sense to go for the NutriBullet for the less complex and feature heavy blenders, but to consider Ninja for the more advanced models with smart programs.
It's a tie! Ninja and NutriBullet have models that match in power at almost every price point.
Your options are:
Personal sized, or bullet style at 600-700 watts.
Heavy duty bullet blender style, 1000 watts.
Combination traditional blender and bullet style, 1200 watts.
It's a tie for this category, as both the power and blade design of both brands allow for a similar range of exciting kitchen projects.
NutriBullet barely wins this round. They provide many different set options, as well as sell the accessories separately. NutriBullet is a great option for folks without much kitchen equipment, or larger families that all want their own cup.
It's a tie for warranty, as both companies come with 1-year limited warranties across the board.
Also, each provides purchasable extended warranties, which we highly recommend for bullet blenders without smart programs. This is due to the propensity of these little motors to overheat when run continuously for too long.
Ninja is the clear victor when it comes to programs. The Auto-iQ technology does it all: delivers perfect results every time, protects the motor by pulsing and pausing throughout a program, and counts down to done.
Easy to use, incredibly efficient, as well as a time and energy saver. You'll never have to shake, stir, and re-blend those smoothies again!
Number of to-go cups and jar sizes
It's a tie. Both companies sell sets with multiple jars and cups, as well as sell them separately.
NutriBullet's blades pull the ingredients into them, meaning there's no need for the specialty ridges shaping the inside of the jar favored by Ninja. While both are easy to get spotless in the dishwasher, Ninja is a much more laborious hand wash.
It's a tie. NutriBullet has the advantage of 6-pronged blades that twist, creating cyclonic action that draws food into the blending area. But Ninja uses hardened stainless steel with excellent durability.
Since it's hard to say which is strictly better, we'll just celebrate how truly awesome each brand's blades are! They are both strong, hardworking, and efficient
It's a tie. You can find nearly any size you need for either brand, no matter your available counter space!
Whether you're a new homeowner who wants to start their kitchen off right with the complete blender/bullet combo and 4 different jars with lids. Or the college kid who just needs something small for their dorm to make their morning smoothies.
Either brand can give you exactly the right sized product for your needs.
Ninja's Tritan brand copolyester is the latest in toxin free plastic blender technology. It's stronger for impacts, can withstand higher and lower temperatures, and won't scuff up as quick as the competitors' jars.
Ninja leaps ahead for the win with the immensely easy to use Auto-iQ technology. Just one touch can whip up your morning smoothie and stop itself when perfect. That means you have more time to hang out with your spouse, do some yoga, or just lay around in bed!
Ninja is the clear winner here, as all their materials are of the highest quality and made with the latest advancements in kitchen appliance technology. Tougher plastics, more durable blades, and stronger motors.
Toe to Toe Product Comparisons: Ninja vs NutriBullet
NutriBullet is produced by Homeland Housewares, which was founded in California in 2003. They coined the term "bullet blender" and have been innovating on the design ever since.
And Ninja is made by SharkNinja. Though previously known as Euro-Pro, the company has been making quality kitchen and home goods for over 100 years out of Massachusetts.
Budget Personal Blender Options
Nutribullet 600W Nutrient Extractor, 6pcs
Power
It comes with a 600-watt motor, which is about double the power of most bullet-style blenders. It even beats many standard blenders well, but can overheat if run continuously for 60 seconds or more
Jar Capacity
This particular package comes with one 24 oz, Tritan copolyester jar. Sturdy, BPA free, and big enough to replace a traditional countertop blender.
Dishwasher safe
Jar, blade, and all accessories (excluding the base!) are completely dishwasher safe.
Warranty
The 1-year limited warranty is pretty unimpressive, but thankfully the company offers multiple, inexpensive extended warranty plans for purchase.
We highly recommend budgeting for an extended warranty, as this type of bullet blender can be prone to overheating if not properly operated.
Extra Features
Purchase includes recipe book, lip ring, and to-go lid.
Ninja Personal Blender (QB3001SS)
Power
This Ninja Personal Blender is one of the most powerful bullet-style blenders on the market for under $60. With its 700-watt motor, this small but strong appliance can make quick work of fruits, greens, and nuts.
Jar Capacity
Two, 16 oz cups made from BPA and toxin free plastic. Great for couples, or a quick morning smoothie before school for the kiddos.
Dishwasher safe
All the Ninja pieces, excluding the base, are dishwasher safe.
Those without a dishwasher may want to use a bottle brush or toothbrush to get all those nooks and crannies.
Warranty
The 1-year limited warranty doesn't cover much, but there are a number of purchasable warranties.
As bullet blenders can overheat easily if run for long periods, we highly recommend snagging an extended warranty during your initial purchase.
Extra Features
This blender comes with two Sip & Seal lids and a recipe book.
Winner - Nutribullet 600w
In all honesty, these two blenders are so similar that it's challenging to pick a winner. But a few details allow the NutriBullet to squeak by a win.
Thoughtful design elements may seem small but make a big difference in time and efficiency. First up, the NutriBullet blades. Stainless steel, 6-pronged blades spin in opposite directions to suck fruit and veggies down into the blending vortex. Say goodbye to those stubborn smoothie chunks!
Additionally, NutriBullet includes handy accessories like the comfortable lip ring for smooth sipping directly from the jar and will generally run you between $10-20 less than the Ninja. You might also be interested in our comparison of the magic bullet vs the nutribullet.
Mid-Priced Personal Blender Options
Nutribullet Pro1000 Light Gray
Power
You get 1000 watts of blending power with a base that is barely larger than similar products with half the horsepower.
Jar Capacity
One 32 oz, BPA free plastic jar.
Dishwasher safe
All the removable parts are totally dishwasher safe, and easy to hand wash as well.
Warranty
It comes with a wimpy, 1-year limited warranty. We recommend beefing up that protection with a purchasable extended warranty.
 Bullet style motors are notorious for overheating when run without stopping for long periods, and an extended warranty will help protect your purchase from any accidental damage or defects.
Extra Features
The star of this appliance is the small but hardworking motor, and it the only accessory it comes with is a to-go lid.
Nutri Ninja Personal Blender with 1000-Watt Auto-iQ Base
Power
The 1000-watt motor can blast through nuts, seeds, ice, frozen fruit – even roots and vegetables!
Jar Capacity
One 18 oz, one 22 oz, one 32 oz. Great for a family or shared amongst roommates or coworkers in dorm or office
Dishwasher safe
As always, every bit of the removable parts of this Ninja blender are safe to put in the dishwasher.
Warranty
Though it comes with a 1-year warranty, consider budgeting for a purchasable extended warranty.
Extra Features
The star feature of this Ninja Personal Blender is the addition of the Auto-iQ base. Unique pulsing, blending, and pausing patterns deliver consistently great results. With the single touch programming, it's one and done!
Winner - Ninja Auto IQ, 1000 w Blender
Ninja pulls ahead for the win this time, and it's all thanks to the smart programming of their Auto-iQ technology.
There's no more guesswork with your smoothies and purees – just pick your favorite smart program for the job and the Auto-iQ will do the work. There's even a digital countdown clock!
The blenders have similar power, but with only a 10% increase in price you can snag the perfect blending capabilities of the Ninja.
Higher-Priced Personal Blender Options
NutriBullet ZNBF30500Z Blender Combo
Power
This NutriBullet has a whopping 1200 watts of blending power.
Jar Capacity
It comes with one 64 oz blender jar, one 32 oz cup, one 24 oz cup. All BPA and toxin free plastic.
Dishwasher safe
Excluding the motor, all the parts are 100% dishwasher safe.
Warranty
Though it comes with a 1-year limited warranty, purchasing one of the inexpensive extended warranties would be wise.
Extra Features
Multiple-speeds, pulse function, and extraction mode make blending and protecting your motor even easier. It also includes a tamper and two to-go lids.
Nutri Ninja Personal and Countertop Blender with 1200-Watt Auto-iQ Base
Power
Rivaling even some commercial blenders, the Nutri Ninja has a 1200-watt motor.
Jar Capacity
Ninja's jars are all made from Tritan copolyester, a sturdy and completely non-toxic plastic. You get one 72 oz blender jar, one 32 oz cup, one 24 oz cup, one 18 oz cup.
Dishwasher safe
Everything besides the motor is dishwasher safe. For easy smoothie clean up, try simply blending warm water and soap for a sparkling blender in no time.
Warranty
It comes with a 1-year limited warranty, but you can purchase extended coverage to make sure your blender runs strong for year to come.
Extra Features
Auto IQ technology. Timed blends and intelligent programs that can do all the work for you and produce excellent results every time.
Also includes Ninja Pro Extractor Blades for blender, and an integrated bullet blender. It's like two blenders in one!
Winner - Nutri Ninja Personal & Countertop Blender
Once again, Ninja brings it home for the win with excellence in their smart programs and base design.
You get one powerful base and two different blenders for one reasonable price. The blender comes with its own, specially designed blades to maximize efficiency. The size and versatility is great for families, and the bullet allows for the quick and easy operation that smoothie fans love.
And that Auto-iQ function makes sure that your creations have the perfect consistency – whether it's salsa, margaritas, or soups – every time. With only a slight difference, Ninja is the way to go.
Conclusion – Our Recommendations
Budget Personal Blender Winner: NutriBullet
At the lower tiers, NutriBullet and Ninja bullet blenders are nearly indistinguishable. That being said, NutriBullet takes the prize with their lower price tag.
Mid-Priced Personal Blender Winner: Ninja
As the prices increase on these types of blenders, Ninja steadily pulls ahead in the race. The addition of the smart programming at barely more cost than the low-tech NutriBullet really deals the death blow.
Personal Blender Combo Winner: Ninja
Once again, that Auto-iQ programming cements a win for Ninja. The one touch smart programs give you perfect results time after time. These programs also protect the motor by auto-pause and pulsing, and there's even a countdown clock!
Add Your Heading Text Here​
Add Your Heading Text Here​
Add Your Heading Text Here​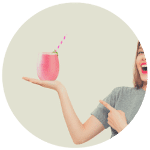 Hi, I am Charms, a self-confessed smoothie fanatic!  Here I will share some of my favorite smoothie recipes, tips and guides and gear reviews.   Learn more .