Smoothies, shakes, and salsas – oh my! Few kitchen appliances are as handy as a good blender. And bullet blenders are one of the most popular in today's kitchens.
Two of the top bullet shaped blenders today are the Magic Bullet and NutriBullet. They sure seem similar at first glance, but details can make all the difference.
Who is the real winner in the match up of Magic Bullet vs NutriBullet? Read on to find out, as well as see toe to toe comparisons of features and in-depth blender reviews.
Magic Bullet vs. Nutribullet : Which One is Better?
Key Differences - Face to Face Feature Comparisons!
Though the price points on both our competitors is remarkably close, the Magic Bullet will cost you about 20% less than the NutriBullet.
Though it's a little less powerful, you actually get quite a lot more for your money with the Magic Bullet when you factor in all the handy accessories and different blades that come with it.
NutriBullet far outstrips its competitor in power. Even though it's small, it has a 600-watt motor. In comparison, the 250-watt Magic Bullet looks positively wimpy.
NutriBullet, with its tiny powerhouse of a motor, wins this round. Combining a 600-watt motor with superior blade design, this little blender can handle nearly any recipe you can imagine.
The NutriBullet can crush ice, puree veggies and fruits, blend frozen fruits, and even turn nuts and seeds into paste.
Magic Bullet always comes in first place in this category! The company sells a variety of blender sets, from 2-3 piece sets all the way up to 13 or more.
These sets generally include things like multiple types of blades, to-go lids, storage lids, different sized jars, etc. And, just in case you need a replacement, all their accessories are readily available for purchase online.
NutriBullet is the winner here and carries a one-year, limited warranty with purchase. The Magic Bullet does not come with a warranty at all.
However, both blenders have reasonably priced extended warranties available for purchase.
It's a tie for this one, simply because both of these blenders have only one speed. Both the Magic Bullet and NutriBullet allow you to pulse blend, hold the jar down to continuously blend, or lock it in place to blend hands free.
Number of To-Go Cups and Jar Sizes
Magic Bullet has thought of everything when it comes to the included jars and cups. You get multiple different sizes with lids for sipping, taking with you to work, or storing in the fridge.
Additionally, the Magic Bullet's jars are designed with handles and stable, 4-point bases that won't fall over in a light breeze like other jars.
It's a tie when it comes to cleaning, because both the Magic Bullet and NutriBullet are completely dishwasher safe. And even those without a dishwasher will appreciate how effortless they are to clean with warm water and soap.
NutriBullet's blade design is the clear winner here. The blades are made from exceptionally durable stainless steel, have 6 prongs for additional crushing and pureeing power, and even rotate in opposite directions to suck food into them!
The Magic Bullet does get points for versatility, as it comes with two types of blades for different project. However, it just can't compete with the speed and efficiency of the NutriBullet blade design.
Both blenders are on the small side, but the Magic Bullet squeaks by for the win.
It measures in at a little less than 12×5 inches, and under 5 pounds. So, no matter how tiny your kitchen, you're sure to be able to squeeze this handy little blender in somewhere!
Made from cutting edge, Tritan copolyester the NutriBullet blender jar is the clear winner. This new take on plastic is stronger and can withstand more extreme temperatures. NutriBullet's jars are all dishwasher, microwave, and freezer safe.
Rest assured, however, that both brands use completely BPA and toxin free plastics.
It's a tie! The design of both the Magic Bullet and NutriBullet is very similar, as are their safety and usability.
Due to the jar design, you won't run into the issue of accidentally chopping up a spoon in the blades – or risk your fingers! The blades are screwed onto the jar like a lid, and then the whole jar goes upside down and onto the base.
And as for usability, these blenders are great for the speedy morning breakfast smoothie, or pre-workout protein shake. Both come with to-go lids and can lock the jar in place, so that you don't have to hold the jar down the entire time you're blending.
Though much of the durability of these blenders depends on how you use them, the NutriBullet is the sturdier machine. The blades and jar are tougher, as well as the motor itself.
Neither blender should be run for extended periods of time, however, as overheating of the motor can occur. Limit blend times to 60 seconds or less, or blend in shorter bursts. 
You can also pulse the blender a few times at the beginning to warm the motor up before running at full speed.
For both the NutriBullet and Magic Bullet, following the instructions and taking special care with the motor should give you many years to come of itty-bitty blending power.
Homeland Housewares, LLC started making blenders in the early 2000s, and their first and most iconic appliance is the Magic Bullet. 
The company is committed to delivering unique, quality appliances and their main purpose is to provide services that make their customers' lives easier.
The Magic Bullet is a solid, dependable little blender that can fit onto any countertop – no matter how cramped! 
It may not be the most powerful, but with the vast array of accessories, including different blades, you'll be able to accomplish more than with a traditional blender of similar power.
It's fast, efficient, and an excellent choice for the protein shake lover on the go.  You might also be interested in our comparison of the magic bullet vs ninja blenders.
Features:
Two blades for different jobs: grinding, chopping, mincing, blending, mixing, and whipping
Sturdy locking mechanism for hands free operation
13-piece set for sipping, storing, and taking things to go
Quick and efficient, easy to use
Less expensive than dinner out for two
Does not come with a warranty
Less powerful motor
Prone to overheating
Nutribullet 600W Nutrient Extractor, 6pcs
Though it is heavier duty and larger, surprisingly, the NutriBullet is the little brother of the Magic Bullet. 
They are made by the same company, Homeland Housewares, which is all about innovation in kitchen appliances to improve your quality of life.
And it certainly shows that the NutriBullet is the newer, more advanced blender. For a minimal price increase the NutriBullet is over double the strength of many other small, single serving blenders. That means you can use it for even more recipes!
Say hello to nut butters, silky smoothies, and crushed ice galore. The combination of horsepower and blade design add a level of versatility to the NutriBullet that was sorely lacking in the Magic Bullet.
You might also be interested in our review of the nutribullet vs the ninja bullet model.
Features:
600-watt motor powerful enough to tackle frozen fruit, crushed ice, nut butters, and more
Sturdy, 6-pronged Twin Extractor Blade creates a vortex for added blending efficiency
Extended warranty options available for extremely reasonable prices
Powerful motor can handle most recipes and projects
Easy to use, easy to clean
Fast, efficient, and versatile design
Prone to leaking
Locking mechanism is easy to break
List of Magic Bullet and Nutribullet Products
Magic Bullet Products
Magic Bullet Blender
Magic Bullet Mini
Magic Bullet Kitchen Express
NutriBullet Products
Nutribullet 600W Nutrient Extractor, 6pcs
NutriBullet NBR-1201 12-Piece High-Speed Blender/Mixer System, Gray (600 Watts) – More containers
NutriBullet Pro 900 Hi-Speed Blender/Mixer, 9-piece Set
NutriBullet Pro – 13-Piece High-Speed Blender/Mixer System with Hardcover Recipe Book Included (900 Watts)
Nutribullet Pro1000 Light Gray
NutriBullet Pro Plus, One Size, Grey
NutriBullet Rx N17-1001 Blender, Black
NutriBullet Balance, Bluetooth Enabled Smart Blender
NutriBullet ZNBF30500Z Blender Combo 1200 Watt, 1200W, Dark Gray
Conclusion – Our Recommendations
Winner: NutriBullet (Check Current Price)
The NutriBullet shines in motor power, innovative blade design, efficiency, and versatility. 
Sure, it may not come with as many attachments as the Magic Bullet, but the 600 watts of blending power make up for it by allowing you to experiment with even more ingredients.
Whether it's crushed ice, smoothies, purees, or nut butters the NutriBullet can do it all! And with only a fractional increase in price from the solid little Magic Bullet, why settle for the runner up?
Use the Magic Bullet If:
You're a first-time blender owner, and want something simple and dependable
You need the extra jars for storage and on-the-go activities
You are someone for whom a 20% price difference is a big deal
Use the NutriBullet If:
You are a smoothie nut, and use your blender every day
You want to be able to do more power intensive blending: purees, crushed ice, frozen fruit
You already have a decent kitchen setup, and don't need the extra accessories
Add Your Heading Text Here​
Add Your Heading Text Here​
Add Your Heading Text Here​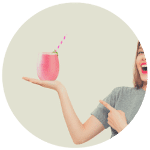 Hi, I am Charms, a self-confessed smoothie fanatic!  Here I will share some of my favorite smoothie recipes, tips and guides and gear reviews.   Learn more .