Oster and its parent company have been making superior quality blenders in North America for over 123 years. They are famed for their Duralast All-Metal Drive and have models to fit any kitchen.
And with so many models available, how can you be confident that you've found the best Oster blender for you?
Let our staff of blender fanatics break it down for you with our picks for top 5 best Oster blenders!
Oster Versa Blender | 1400 Watts | Stainless Steel Blade | Low Profile Jar | Perfect for Smoothies, Soups
Big families and adventurous at home chefs will love the Oster Versa. Ruggedly built, with a large jar capacity, and dishwasher safe parts.
The speed dial and pre-set programs make getting the perfect blend every time easy. Plus, we love that it has the power to take on any recipe, from nut butters to perfectly fluffy frozen drinks.
And between the fully metal motor, super strong Tritan copolyester jar, and lengthy warranty you won't be needing to replace it anytime soon!
It's a little expensive, but all its design elements and excellent reviews speak to a blender that will last you for years to come.
What's special about it:
Speed dial for precise blending control
Powerful, long lasting Duralast All-Metal Drive
Impact and thermal shock resistant, copolyester jar
More than enough horsepower to handle any ingredient
Incredibly powerful
Sturdy construction
Highly versatile
Variable speed dial and programs
Comprehensive warranty
Oster Blender | Pro 1200 with Glass Jar, 24-Ounce Smoothie Cup
For small families and folks needing the sturdiest machine available for under $100, the Pro 1200 may be perfect. Because this model is a winning combination of superior construction and reasonable price.
It has the lauded all-metal motor under a 10-year warranty. And the specially treated borosilicate glass jar can even go directly in the freezer or blend hot liquids without fear of cracking.
One feature we wish they'd spent a little more time on is perfecting the seals for switching between standard and bullet blender mode. The o-rings can be hard to change, and leak quickly with the back and forth.
What's special about it:
Motor and blades powerful enough for most kitchen projects
Smart settings give the perfect consistency and protect motor
Exceptionally sturdy, borosilicate glass for hot and cold blending
Very powerful
Sturdy construction
Incredibly reasonable price
Versatile, on-the-go or at home
Smaller jar capacity
Seals quickly begin leaking
Oster BLSTTS-CB2-000 Pro Blender with Texture Select Settings, 2 Blend-N-Go Cups and Tritan Jar
For a high-powered blender at a budget price, the BLSTTS-CB2-000 model should not be overlooked. You can blend in to-go cups, or the strong, copolyester jar and even control the thickness with special texture settings.
And we love the blade design, 6-prongs that spin in opposite directions to funnel ingredients into their strong cutting edge and increase the efficiency.
Unfortunately, it is unclear whether this model comes with the famous Duralast All-Metal Drive. With the 10-year warranty it's an exceptionally good price for a sturdy product.
But without the Duralast warranty it only comes a 1-year limited warranty and 3-year "satisfaction guarantee."
What's special about it:
Extra-large, 6-pronged, stainless steel, Dual Direction blades
Rugged, scratch and thermal shock resistant copolyester jar
Convenient, combination bullet and standard blender
Very powerful
Fast, efficient, multiple programs
Versatile, at home or on-the-go
Inexpensive for the quality
May not have all-metal motor
Oster Versatile Turbo Function Stick Mixer Hand Blender - Stainless Steel Shaft and Blade - FPSTHB2610W
The Oster Hand Blender is another excellent budget option for folks that need both hot and cold blending capacity.
We love the versatility offered by immersion blenders, which can be used in any container. Blend hot soups right on the stove, smoothies in their cups, and whip mousses in a flash. All you need is an outlet!
Oster has equipped this handy little tool with blade guard to keep your non-stick coatings safe as well as a "turbo" function to help achieve a truly homogenous mixture.
The trade off, however, is in motor power and warranty coverage. At 250 watts his model can't handle things like crushing ice or nut butters.
And we're guessing that in this case the lower price speaks to a shorter lifespan for the appliance. But for under $30 it's still a great choice.
What's special about it:
High performance, stainless steel blades
Versatile, handheld design
Appropriate for hot or cold blending
Portable
Easy to use, lightweight
Inexpensive
Wimpy warranty
Less powerful
Oster Blend Active Portable Blender with Drinking Lid, USB Chargeable Personal Blender
Oster's Blend Active model is the most portable blender we've ever seen. The totally cord-free operation means you can take it to your yoga class, your desk at work, or even a mountain top.
This little guy is a fun, easy to use little blender great for outdoor enthusiasts, protein shake lovers, as well as the busy mom or chronically running late college kid. It's ecofriendly too, and charges via USB in under 2.5 hours.
But don't expect much power from this teeny motor. In fact, Oster doesn't even list the motor wattage. Though portable, it can't handle much more than mixing and blending liquids and soft solids.
It's good for steamed veggies for baby foods, juice blends, and protein drinks, but would quickly overheat if you try blending frozen fruit or ice.
What's special about it:
Take anywhere, blends right in the cup
Safety lock only runs blade when lid is firmly affixed
Energy efficient, rechargeable, battery powered design
Extremely portable
Rechargeable
Wimpy warranty
Significantly less powerful
Buyers Guide - Features to Consider
Your Oster blender's motor power is the main feature that determines what you can do with your appliance. The more horsepower it can bring to bear, the more types of recipes it can tackle.
More power intensive tasks that require 1000 watts or more include: crushing ice, blending roots or hard vegetables, grinding nut butter
Less power intensive tasks include: blending fresh fruit, chopping vegetables, grinding spices, pureeing soups and smoothies.
So, want to grind your own nut butters with ease? Go for a beefier motor like the 1400-watt Oster Versa or BLSTTS-CB2-000.
Or perhaps you're more interested in extreme portability and versatility? The Oster Hand Blender can blend ingredients of any temperature in any vessel and is surprisingly effective though its motor is only 250 watts.
Jar material choice will affect the aesthetic of your blender as well as what types of ingredients it can blend.
Glass
Classy, stays clean and unscratched
Odor and stain resistant
Heavy
Breakable due to impact or thermal shock
Plastic
Inexpensive
Lightweight
Shows scratches over time
Becomes brittle in extreme temperatures
Copolyester plastic
Low-mid range price
Lightweight
Smell and stain resistant
Resistant to scratches
Thermal shock and impact resistant
Borosilicate glass
Mid-high range price
No scratches or clouding
Stain and odor resistant
Mid-range weight
Thermal shock and impact resistant
Those seeking a less expensive option may want to consider glass, or a BPA free plastic. While glass offers that shiny, new look both glass and plastic are brittle and less durable options.
But if you want to be able to blend hot soups or coffee as well as frozen beverages, check out blenders with strong, copolyester or borosilicate glass jars. Or eschew the jar altogether and go for a stick design.
Warranty is an excellent indicator of the longevity of a kitchen appliance. For example, you don't see many full, 10-year warranties on cheap plastic items.
Though the coverage for jars, casing, and seals varies Oster's legendary, DURALST All-Metal motors all come with a 10-year limited warranty. These motors outlast others with cheap plastic parts and won't melt with repeated use.
Oster's website is also a great resource for some of the more common pieces that need replacing, though they run out of stock a few times a year.
Are you less concerned about the price tag, and just want to solid blender that won't need to be replaced every year? The Oster Versa with its robust, 7-year warranty may be just right.
The available speeds and pre-set programs your blender comes with mainly affect the ease of use, but can also impact the longevity of the appliance.
For the busy chef or mother, having the one touch blending programs of the Oster Versa, BLSTTS-CB2-000, or Pro 1200 are sure take some stress off your shoulders during hectic mealtimes.
But more than making your life easy, pre-set programs can also extend the life of your blender's motor. Because when blenders are run at high speeds for extended periods, the motor can overheat and strain the components over time.
Pre-set programs have the appropriate pauses, warm up, and cool downs built in to maximize the efficiency of your blender without overheating.
So, if your blender only one or two speeds and no programs to automatically pause here and there, the chances of overheating or straining you motor over time increase.
Without these helpful programs it's up to you to pay attention and time out your blends. We recommend running your blender for no more than 60 seconds at a time.
Are you a new homeowner who doesn't have the kitchen equipment to fill a single cabinet? A model that comes with accessories like shatter proof cups and to-go lids like the Oster BLSTTS-CB2-000 may be your best bet.
Perhaps you prize a minimalist lifestyle, and just need something that works and doesn't clutter up your space. Check out the svelte little Oster Hand Blender, or the powerful but low-profile Versa.
Frequently Asked Questions
What Is the Best Oster Blender with a Glass Jar?
In terms of price, reliability, and materials the Oster Pro 1200 is our choice for the best Oster blender with a glass jar.
And it isn't regular glass – it's super strong, thermal shock and impact resistant borosilicate glass! You get the class of glass without the heavy, breakable jar.
Are Oster Blenders Made in the USA?
Oster was founded in 1946 in America by John Oster. The company was later bought by Sunbeam Products in 1960, but manufacturing and running of the brand has never left North America.
All of Oster's products are made in North America. The majority are produced in the United States, but some also come from Canada.
Let's cut to the chase: the best of the best Oster blenders is their immensely powerful Oster Versa.
It blends at up to 1400 watts, works for hot or cold liquids, and boasts the sturdiness of an all-metal motor and scratch/impact/stain resistant jar. And with its comprehensive warranties, it will be the last blender you nee to purchase for a long time.
We hope these handy tips and reviews have helped you find the perfect blender.
Enjoy!
Add Your Heading Text Here​
Add Your Heading Text Here​
Add Your Heading Text Here​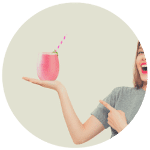 Hi, I am Charms, a self-confessed smoothie fanatic!  Here I will share some of my favorite smoothie recipes, tips and guides and gear reviews.   Learn more .