Trying to compare ninja blenders can be a nightmare!  SharkNinja sells over 40 unique models at the moment, customized for distinct kitchens, preferences, and taste buds.
Finding the best Ninja blender is an uphill battle – there are so many, you are bound to get confused!
We compare the most popular Ninja blenders (comparisons and charts included) for you in this buyer's guide. You will gain a bird's eye view of the brand's various blenders on offer, sorted by category, and be able to identify the best ones.
Compare Ninja Blenders - Product Reviews
Ninja Nutri Pro Compact Personal Blender
The Ninja Nutri Pro is an entry-level blender perfect for a family of one. It has a basic, no-frills design, with a silver, bullet-shaped body. It comes with two single-serve cups. You can blend a drink in the cup, detach it, and gulp down a single serving. Or you can pop on a lid and take the cup with you when you leave for work or the gym.  
To blend any beverage or other wet food, you press and hold the single manual pulse control on the side of the appliance. The powerful 900W motor and stainless steel blades do a fine job of uniformly pulverizing and mixing most foods. You may have trouble getting the desired consistency, though, thanks to the single manual speed option.
This blender is louder than average. You will need to clean it regularly and make sure not to overfill it to keep it top shape. It's easy to clean, fortunately, and fits any cabinet thanks to its small size. Overall, this is one of the best personal blenders out there and is a bargain for what it costs.
Blends anything you throw at it.
A steal at the asking price.
Compact.  
Loud.
One manual speed only.
Needs some maintenance.  
Ninja BL480D Nutri Personal Blender – Our Personal Blender Recommendation
The Ninja Nutri Personal Blender is a step up over the Ninja Nutri Pro Compact. It's slightly bigger, to accommodate the larger motor, and comes with 4 manual speeds in total. It retains the same curved design and silver body. The appliance is a bit more expensive than the Nutri Pro Compact, but you get your money's worth in added features.
Blending up and serving drinks is a breeze thanks to the two to-go cups. The 1000W motor pulverizes the densest ingredients, and the "Nutrient Extraction" technology ensures you get a smooth consistency. Further, thanks to the Auto-iQ controls, you can just press a button and let the blender do the work for you automatically. You aren't stuck to the machine while it works.
This blender is super compact and easy to tuck away in any corner. It's also easy to clean. The build quality is solid. This machine should last you a while if you take care of it. The only drawbacks are the noise and the limited warranty. Still, this is one of the best personal blenders for any brand you can buy today.   
Blends extremely well.
Easy to clean, use, store.
2 automatic programs.
Ninja BN701 Professional Plus Blender
The Ninja BN701 Professional Plus Blender is a full-sized countertop appliance. It has an elegant black and dark grey finish, with 7 one-touch controls on the side. You get a big 72oz pitcher in the box, perfect for making medium-large sized servings of food and drink. This is one of the most affordable countertop blenders out there – and it doesn't skimp on the features either.
This appliance has a powerful 1400W motor. Pair that up with the long stacked blades and you have a blender that grinds most ingredients to a fine powder in seconds. This blender won't crush tiny fruit seeds or dry foods like nuts perfectly, but it does a respectable job nonetheless. The Auto-iQ programs allow you to make 3 items with the touch of a button – smoothies, ice crushes, or ice creams.   
You'll find this blender is easy to clean and maintain, and it's easy to store as well. It works best on wet foods and is perfect for everyday smoothie making.
Exceptionally good at making beverages.
Solid design, convenient automatic programs.
Easy to maintain.
Takes up significant real estate.
Doesn't work for dry ingredients or hot soup.
No instruction or recipe book.
Ninja CT810 Chef High-Speed Premium in Home Blender – Our Countertop Blender Recommendation
The Ninja Chef High-Speed Premium blender is a gorgeous, high-tech appliance that can give the likes of Vitamix a run for their money. It surprisingly pocket-friendly and offers a multitude of features. The Ninja Chef has a black body, over 10 manual speed options, and a nifty programmable timer. You get your money's worth and then some.
With 1500W of power, this blender has zero trouble with even the densest of ingredients. While it can't fully match higher-priced professional-grade blenders when it comes to the final consistency of the blend, it comes close. You can use this for both wet and dry foods. The multiple Auto-iQ programs take all the guesswork out of the food prep, allowing it to turn itself on and off and blend automatically.
The blender is one of the easiest to clean, store, and maintain from Ninja. The only drawback is that it's very loud. Further, it has a 1-year warranty only, though the appliance is high-quality and you probably won't need a longer one.  
Gives higher-priced blenders a run for their money.
Beautiful design.
Superior performance.
Extremely loud.
1-year warranty only.
Ninja BN801 Professional Plus Kitchen System – Our Recommendation for Ninja Kitchen Systems
The Ninja Professional Plus Kitchen System is what you would call a multi-function blender. Not only does it make the usual beverages, but it can also chop up veggies, knead dough, and generally help you make a variety of everyday foods. This black-and-silver appliance comes with an added processor bowl with different blades for food processing.
This blender has an excellent 1400W motor and comes with stacked Total Crushing Blades, which means it has no trouble making silky-smooth drinks. The food processor function works well for small amounts of food but will struggle with large ones. It comes with several Auto-iQ programs to allow you to make food or drinks automatically. This blender remains stable at high speeds thanks to its suction feet.
One major drawback of this blender is that it's large and comes with multiple accessories, which means it's going to require a lot of dedicated space. Overall, it's a good cooking aid that won't cost a lot.
Powerful, sturdy, and multi-functional.
Suction feet keep the blender in place.
Multiple pre-programmed buttons.
Suction feet make it hard to move.
Takes a ton of room.
The food processor works best for small amounts of food.
Ninja Foodi Cold & Hot Soups Blender – The Best Choice for Making Hot Foods
The Ninja Foodi Cold & Hot Soups Blender is a blender with a heating element. That means it will not only blend food and drinks but also cook them when you need it. This is a good-looking appliance, with a black and silver finish, and has several quick-press buttons. There's a useful LED timer function built-in. The 64oz jar allows you to mix or cook food for a whole family.
You won't have trouble making smoothies, milkshakes, and wet food with this powerful appliance. The Auto-iQ options are a great convenience, as always. The 800W heating element does a solid job of making hot foods like soup. However, you can't control the temperature manually, nor can you keep track of the temperature via a gauge.
Unlike most Ninja blenders, this one comes with a high-quality glass jar, which is necessary if you're making hot foods. This makes the machine heavier than average and a challenge to store. It's also somewhat challenging to clean thanks to the heft of the glass jar and base. This is one of the more expensive heating blenders, but also one of the better ones.
Premium glass container.
Blends uniformly and well.
Makes hearty soups.
Heavy base, heavy glass jar.
A minor challenge to clean.
Hard to store.
Ninja SS101 Foodi Power Nutri Duo Smoothie Bowl Maker – For the Perfect Smoothie Bowl
The Ninja SS101 Foodi Power Nutri Duo Smoothie Bowl Maker is a compact, bowl-shaped blender that specializes in making thick foods. For example smoothie bowls, ice cream, and frozen treats, and nut butters. It comes with a 14oz smoothie bowl attachment for the thick foods, and you can whip up a smoothie using one of two the to-go cups. This machine comes with 6 multi-function speed options.
This machine has a 1200W motor with smartTORQUE technology. This technology allows the blender to plow through dense ingredients at consistent speeds without dying out. In practice, it works well. You can make solid foods like nut butters with little trouble. The machine does a fairly good job of making smoothies and other beverages too.
The only major drawback of this smoothie bowl maker is that you need to turn the "Power Paddle" by hand, to push the ingredients toward the blades. All in all, this is an affordable machine that can make smoothies and smoothie bowls equally well.   
Excellent at making smoothie bowls, nut butters, and ice cream.
Easy to clean, maintain, and use.
Compact space-saving design.
You need to turn the Power Paddle bowl by hand.
Loud.
Nutri Ninja Personal and Countertop Blender – The Best Mini-Sized Countertop Blender
The Nutri Ninja Personal and Countertop Blender is a smaller, lighter kind of blender. This is the machine to buy if you want more power than a personal blender without any of the hassle of a full-sized countertop appliance. The blender has an attractive silver-and-black design. It comes with a single main pitcher and three smaller quick-serve cups.
Like its bigger brethren, the Nutri Ninja Personal and Countertop Blender offers several Auto-iQ options. The machine will do most of the work itself after you push one of these options. The 1200W motor offers enough power for the majority of food-making tasks. The final blend will be satisfactory, though not on not on par with the results you get from the bigger Ninja Chef Premium blender.
You will have little trouble cleaning or storing this appliance. Be aware that while this blender doesn't cost a lot, it is more expensive than most personal blenders.
Blends reasonably well.
Easy to use and clean.
Multiple automatic programs.
Noisy.
Expensive for a personal blender.
Buyer's Guide – Everything You Need to Know When Buying a Ninja Blender
Common Blender Categories
Blenders across all brands are commonly categorized by form and function:
Personal: These entry-level models are compact, sometimes portable, and suitable for a family of one. They have a no-frills design and come with small containers – perfect if you only make about one smoothie a day.
Countertop: Countertop blenders are the typical, normal-sized blenders you find in almost every kitchen. These mid-range blenders come with a standard set of features and can make foods and drinks for a whole family.
Food processor combo: Also dubbed as a kitchen system or professional blender by some brands, a food processor combination blender lets you blend drinks, chop up food, and mix dough. It usually costs more than a countertop blender.
Juicing Blender: Some blenders come with specialized juicing attachments – like a removable filter that separates the pulp of the fruits and vegetables from the juice.
Heating Blender for Soups and Hot Drinks: A heating blender will allow you to make hot food and drinks – like soups, sauces, and purees. This type of blender has an integrated heating element that's separate from the motor.
Why Choose a Ninja Blender?
The Ninja brand does some things better than the competition:
Match higher-priced blenders for features: Most Ninja blenders offer features that you'd normally find on blenders priced 2x-4x higher. And they blend almost as well as their higher-end counterparts.  
Ease of use: With most Ninja blenders, you can press a button and have the blender do all the work for you. It calculates the exact speed it needs to run at, and for how long, by itself. You don't have to waste time controlling the speed manually.
Stacked blade assembly: Many popular Ninja blenders come with a stacked blade assembly, with blades rising from the bottom all the way to the top of the container. This design causes the ingredients to blend at a uniform consistency throughout.
Reliable quality: Ninja blenders are reliable machines. You can expect the low-to-mid-end ones to last a good few years, at the very least. The higher-end ones will last even longer.
A modern aesthetic: Ninja blenders look modern and are also modern under the hood. The majority have slick, intuitive controls.
Ninja offers blenders across all the usual categories:
Personal Blenders: A personal blender from Ninja will cost less than $100, usually. It will come with a reasonably powerful motor and some to-go cups that you can take with you outside.
Countertop Blenders: A countertop blender from Ninja will cost anywhere from $70-300. These blenders make quick work of most everyday tasks, including smoothie making. They are high-quality, reliable appliances.
Kitchen System: A kitchen system from Ninja is typically priced $200 and up. You can expect extra attachments and accessories like food processor bowls and chopping blades. They do an adequate job of food processing, like dough making.
Blenders with FreshVac Technology: Some newer, upgraded, and pricier Ninja blenders come with a FreshVac pump. It can seal off the container and sucks out oxygen from the blend. Your blend then spoils slower, tastes better, and stays fresh up to 8 hours after you make it.  
Blenders with Auto-iQ: Ninja offers the Auto-iQ feature on blenders across all categories. Auto-iQ is pre-programmed settings. You push a button, depending on what you want to make, and the blender does the work for you!
What Do You Plan to Use Your Ninja Blender For?
A Ninja blender is a versatile appliance that can take everything you throw at it:
Individual or large family: You can make food for exactly as few or as many people as you like with a Ninja blender.
Smoothies or whole juices: Planning to use your Ninja blender to make a nice vegan smoothie? What about a refreshing whole juice? Ninja blenders can do both equally well.
Food prep: If your Ninja blender has a food processor bowl, it can save you a great deal of grunt work. You can use it to mix dough, chop up food, and make purees.
Hot liquids: With the right Ninja blender, you can make and mix hot liquids without having to heat a separate pan on the stove.
How much is a Ninja Blender?
One of the main attractions of ninja blenders are they offer powerful blending performance at an affordable price.  You can find single serve bullet blenders for around $50 and larger counter top blenders for around $100.  If you want a ninja blender food processor combo you will pay a bit more.
A blender with a 1000-watt motor will make quick work of everyday blending tasks. As a rule of thumb, the more powerful the motor, the easier – and faster – it can crush ingredients. Ninja blenders typically have extra-powerful motors. The Ninja CT810 Chef High-Speed Premium blender has a monster 1500W motor that churns any ingredient you throw at it into a fine powder!
Blade material and density are important. The blade will grind against tough ingredients all the time. A weak material will cause it to break off. Multi-teeth, stainless-steel blades are the norm when it comes to blenders.
Some basic Ninja blenders, like the Ninja Nutri Pro Compact Personal blender, come with simple stainless-steel blades. More advanced blenders come with "Total Crushing" Blades, stacked from the bottom of the container to the top. This allows them to blend more uniformly, without you having to press the ingredients to the bottom of the jar.   
Ninja blenders will come with one or more jars out-of-the-box:
Jar size: The main food jar will be typically between 64oz to 72oz (8 to 9 cups). When you fill it to holding capacity, which is slightly less than the size of the jar, you will be able to make food for a whole family.
Plastic jar: Most Ninja blenders come with BPA-free, non-toxic plastic jars. They are of high quality and, unlike glass jars, don't crack easily. They are also easy to lift, lightweight, and safe-to-use at high-speed blending cycles.
Glass jar: Some Ninja blenders will come with a glass jar – such as the Ninja Foodi Cold and Hot Soups blender. Glass doesn't stain and doesn't hold onto food smells. It's also able to withstand heat better than plastic. However, it is prone to cracking and hard to lift.
To-go cups: You may receive one or more small to-go cup with your blender. To-go cups are miniature containers that you can blend a drink in, detach from the blender, and take away with you. It saves you the trouble of pouring your drink into a separate cup.
Food processor bowls: A food processor bowl is a separate container for chopping foods. It has a different design and fits a different sort of blade at the bottom.
Stainless steel cups: Some blenders, like the Ninja BL942, come with a double-wall stainless steel cup that keeps your favorite frozen smoothies chilled for up to 4 hours!
You won't have trouble cleaning Ninja blenders. The majority of them are dishwasher-safe. Many also come with self-cleaning functions if you don't own a dishwasher. Essentially, you can blend some hot water and soap and have the blender clean itself. It can save you time and energy.
Size – How much space do you have?
Except for the personal blenders range, Ninja blenders are generally talk and bulky. Further, they also come with multiple accessories like extra containers and blades. Finding room for your Ninja blender is going to be a challenge. Not all of them will fit into a smaller kitchen cabinet.  
A Ninja blender is a versatile machine. Most of them can handle wet ingredients as equally well as dry ones. Some of them double as food processors, so you don't need to purchase a separate appliance. If you would like to make juice with your blender, the Ninja Blender Duo comes with a Micro Juice filter.
The warranty is important if you want to replace or repair a malfunctioning blender without paying for it yourself. Unfortunately, Ninja blenders don't have long warranties. Most of them come with a 1-year limited warranty. On the plus side, Ninja blenders are sturdy, high-quality appliances that don't break down easily. You probably won't need a long warranty.  
Auto-iQ is a pre-programmed setting on several Ninja blenders. When you use an Auto-iQ program, the blender automatically blends the item you intend to prepare without you having to control the speed manually. The blender will pulse, blend, and pause at pre-defined intervals automatically to prepare one of several food items.
Here are some Auto-iQ program examples:
Soup
Ice Cream
Puree
Smoothie
Extract
Frozen Drink
Some Ninja blenders have more Auto-iQ options than others:
Ninja BL642 – Countertop and Blender Combo – 3 programs.
Ninja BL685 – Blender Food Processor Kitchen System – 5 programs.
Ninja BL494 – Blender Food Processor Kitchen System – 5 programs.
Ninja BL688 – Countertop Blender – 3 programs.
Ninja CT650 – Countertop Blender – 4 programs.
Ninja CT672V – Blender Food Processor System with Fresh Vac technology – 9 programs.
Ninja CT810 – Countertop Blender – 10 programs.
Ninja BL480D – Personal Blender – 2 programs.
Ninja BN801 – Blender and Food Processor Kitchen System – 5 programs.
What is FreshVac Technology?
Some newer Ninja Blenders come with a special pump designed to remove oxygen before blending. You fit the pump on top of the blender and turn it on. It will suck out all the oxygen from the mixture. This will preserve the vitamins, colors, and flavors from the preparation for longer. Essentially, the pump helps to keep your preparations fresh even after you refrigerate them.  
The FreshVac technology is available for most major blender types, including personal blenders and countertop ones. If you choose to buy a blender with the pump accessory, it is going to cost a little extra. Below is a list of the best Ninja Blenders that ship with a FreshVac attachment:
Ninja CT672V Smart Screen Blender and Food Processor with FreshVac Technology.
Ninja CT661V Smart Screen DUO Technology in Black Countertop Blender with FreshVac.
Nutri BL580 Ninja Blender with FreshVac Technology.
Most blenders can't maintain their high-speed cycles for a long time. This is because the motor needs time to cool down. Otherwise, it may overheat and break down. Continuously running the blender at the same high speed may also reduce the lifespan of the motor.
The smartTORQUE technology allows a blender to maintain its cycle for longer without any major stalls. You don't have to stir the mixture manually either. The Ninja SS101 Foodi Power machine uses this technology. It needs it to make thick foods like nut butters and frozen desserts that require the motor to push through dense ingredients at consistent speeds for a prolonged period.
What are the strongest ninja blenders?
The strongest Ninja blenders aren't always the ones with the most powerful motor! Here are three of our choice picks:
The Ninja CT810 Chef High-Speed Premium in Home Blender – It has an extra-powerful 1500W motor and strong stainless steel blades.
The Ninja SS101 Foodi Power Blender – It comes with a 1200W motor with smartTORQUE, allowing it to cycle at high speeds continuously and plow through the toughest ingredients.
The Ninja Foodi Power Pitcher System Blender – It has an extra-powerful 1400W motor that employs the smartTORQUE technology.
What are the newest Ninja Blender Models?
The Foodi range from Ninja is new. This includes the Ninja Foodi Power Nutri Duo Smoothie Bowl Maker and the Ninja Foodi Cold & Hot Blender, which we have reviewed for you above.
The Ninja Foodi Power Pitcher System is also new and worth mentioning. This is a multi-function blender – it's a combination of a blender, smoothie bowl maker, food processor, and also dough mixer. It comes with a 1400W motor equipped with the smartTORQUE technology. It also has a Power Nutri Bowl with the Power Paddle.
Ninja blenders are modern, high-tech blenders that offer maximum value for your money. The brand offers reliable quality, with powerful motors and blades.
Arranged by category, here's a quick recap of the best Ninja blenders in the market right now:  
Best Personal Blender: Ninja BL480D Nutri Personal Blender.
Best Countertop Blender: Ninja CT810 Chef High-Speed Premium in Home Blender.
Best Kitchen System: Ninja BN801 Professional Plus Kitchen System.
Best Smoothie Bowl Maker: Ninja SS101 Foodi Power Nutri Duo Smoothie Bowl Maker.
Best Personal & Countertop Blender Combo: Nutri Ninja Personal and Countertop Blender.
Add Your Heading Text Here​
Add Your Heading Text Here​
Add Your Heading Text Here​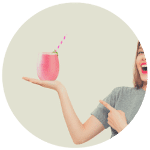 Hi, I am Charms, a self-confessed smoothie fanatic!  Here I will share some of my favorite smoothie recipes, tips and guides and gear reviews.   Learn more .