Name brands aren't always the best product – and they're certainly almost never the cheapest! And when it comes to bullet blenders, NutriBullet is the household name.
But whether it's the price tag, the reliability, or just that you don't like the features there are plenty of reasons why you might prefer a different appliance. That's why we're giving you a list of our top 5 NutriBullet alternatives!
By far out favorite on the list is the Jusseion. Though it sounds like the hot new Pokémon, it's actually a versatile little blender with the power and features to make any blender-nut happy.
Best Nutribullet Alternatives, Our Top Picks
Nutribullet Alternatives Product Reviews
Jusseion Smoothie Blender - 1200W Auto-Blend Bullet Blender
Blender aficionados that are seeking a full-on upgrade from the NutriBullet need look no further. Because the Jusseion has the power of a regular blender at half the size.
Jusseion combines superior motor power, versatility, as well as compact and thoughtful design. It comes with a single serving cup like you expect with a bullet blender, but also includes a family sized jar. 
The digital timer and pre-set programs allow for quick and easy hands-free operation.
And no need to worry about waking the whole house up with your morning smoothie. Because even with the powerhouse motor, this blender is surprisingly quiet.
But our favorite parts of the Jusseion's bullet blender are its safety features. Grippy cups on the bottom keep it from "walking," and to turn the blender on you must first lock the jar in place and then flip a switch. 
There's almost no danger of kitchen mishaps with the Jusseion!
What's special about it:
Incredibly powerful motor for the compact size can handle almost any recipe
Sturdy, 6-pronged stainless steel blades can power through tough ingredients
Numerous safety features included that competitors lack
High-quality appliance at a premium price
Ninja BL480D Nutri 1000 Watt Auto-IQ Base for Juices, Shakes & Smoothies
Do you want a bullet blender with similar features and power to a NutriBullet, but want to save a little money? This Ninja model is just the thing!
With its 1000-watt motor and durable blades, the Ninja can do everything the NutriBullet can: puree vegetables, crush ice, and make smoothies galore. 
It even has a similar warranty length, and both companies have similarly lackluster customer service.
We love the Auto-iQ function on the Ninja, which optimizes the blade design and powerful motor to get every smoothie that perfect consistency each time.
Not only that, but Ninja's jars are all made of Tritan copolyester, a cutting-edge plastic which is dent, scratch, shatter, and thermal shock resistant. And the Ninja will generally cost you about 20-30% less than the NutriBullet
If you are seeking a more budget friendly model, check out the Ninja Fit (QB3001SS) or Nutri Ninja Pro (BL456). Both models are cheaper and of similar bullet shape but are a little less powerful than this 1000-watt version.
What's special about it:
Powerful motor can crush ice, puree fruits and veggies, and more
Tough, stainless steel, 4-pronged extractor blades
Super sturdy copolyester jar resists scratches and dents
Auto-iQ technology with 2 pre-set programs for the perfect consistency every time
COSORI Blender for Shakes and Smoothies
Cosori's take on a bullet blender is a solid, dependable, and reasonably priced machine. It's middle of the road all the way, and a good fit for families with its three included jars.
This blender has obsessively engineered blades, fairly durable construction, and full 2-year warranty.
A standout feature is the auto blend mode. This pre-set program blends on high for 3 seconds at a time and then pauses for 1 second, running 10 cycles and turning off. 
Not only will this allow you to set it and walk away, but it protects the motor from overheating – a common issue for single speed blenders.
What's special about it:
Reasonably Priced
Durable, copolyester jars
6-pronged, hardened stainless steel blades: sharp, blunt, and hole blades
Auto Blend feature helps protect motor from overheating
CHULUX Smoothie Bullet Blender Maker with Recipe Book
Those seeking a highly versatile blender with helpful accessories should check out Chulux.
The motor is powerful and durable. It has silicone feet to prevent walking. The jars are strong, Tritan copolyester and come with both storage lids and spouted lids for easy travel.
And the best part – it comes with one set of grinding blades for spices and coffee beans, as well as a sharp, 6-pronged blending blade. You get versatility and handy accessories all in one package.
However, there is no warranty, and the motor does not have built in cool down features. So, you must operate it appropriately if you want to prevent overheating and deterioration of the appliance.
What's special about it:
Great budget option
Powerful motor, effective blades
Superior safety features: jar lock, silicone feet.
Includes two blade lids and other handy accessories
OYeet Personal Blender Shakes and Smoothies
Smoothie lovers for whom kitchen décor is a passion will love the OYeet Personal Blender. The sleek, modern design and colors will look great in almost any home.
It has a powerful motor, a Tritan copolyester jar, and can blend smoothies in about 10 seconds.
However, the motor durability and longevity of this blender is underwhelming – likely related to overheating. Many consumers report a significant decrease in efficiency after only a month.
Though the company is often willing to send replacement parts and the warranty is longer than most, at nearly $100 we would expect a lot more.
What's special about it:
Beautiful colors and sleek look
Silicone sleeve reduces accidental drops
Decent warranty and helpful customer service
Buyers Guide - A Few things to Look for When Considering NutriBullet Alternatives
Due to their single, high speed design bullet blenders are usually less durable than a standard blender due to issues with overheating. That means you should pay extra attention to the warranty and usage instructions.
Some bullet blenders offer better warranty coverage than the NutriBullet, like the Cosori and OYeet. However, most have a similar, 1-year agreement with limited coverage.
Power is one of the most important parts of choosing a good blender. You want the motor to be strong enough to blast through smoothie ingredients at a quick, efficient pace.
Depending on which model of NutriBullet you are comparing to, there are many bullet blenders that are more powerful for less money.
Ninja, OYeet, and Jusseion are excellent examples of similar or more powerful motors that will cost you between 10-30% less than a NutriBullet.
Both Cosori and Chulux have mid-range power at a fraction of the cost of NutriBullet blenders of the same wattage.
NutriBullets are not known for their versatility. So, choosing another brand may broaden your blender repertoire and allow for more kinds of recipes, large jar capacity, etc.
For example, if you are buying for a family you will likely want to go for a brand that includes multiple sized jars, like Chulux and Ninja.
Or, if you want a blender that can tackle more types of recipes investigate the more powerful models like Jusseion, Ninja, and Chulux. Some, like Chulux, even come with different types of blades for grinding coffee, chopping salsa, ice crushing, making Indian food and blending fruits and veggies to a fine puree.
Most NutriBullet models are single speed with no presets. This means you can't set them and walk away and that they are often less durable.
That's because, besides warranty, speed settings are the best way to determine the durability and longevity of a blender.
Since bullet style blenders are prone to overheating, look for brands like Ninja and Jusseion that have pre-set programs that will protect the motor with built in cool downs and heat monitoring.
Not only that, but the more speed settings the more types of hands-free recipes you can make!
This is usually the factor most people care about when comparing bullet blender models. 
Often, you cannot find a NutriBullet for under $100. And if you're just getting a blender to make morning smoothies or the occasional protein shake, that's probably a bit out of your budget.
That's why we focused on cheaper alternatives in this article. Do keep in mind, however, that with significant drops in price you often see a decline in durability and efficiency as well.
If you have to choose between the $40 bullet blender that needs to be replaced every two years, or the $100 blender that lasts for 5 it's better to just save up and get the higher-quality model. 
Careful calculations like this will save you money and headaches!
Let's cut to the chase: our favorite alternative to a NutriBullet is the powerful and well designed Jusseion. You get pre-set programs, safety features, multiple different jar sizes, a digital timer, and 6-pronged blades that can tackle any recipe! Jusseion is not just an alternative, it's an upgrade.
We hope this article has helped you cut through the retail crap and find the best NutriBullet alternative for you.
Add Your Heading Text Here​
Add Your Heading Text Here​
Add Your Heading Text Here​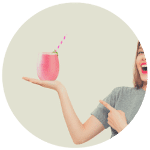 Hi, I am Charms, a self-confessed smoothie fanatic!  Here I will share some of my favorite smoothie recipes, tips and guides and gear reviews.   Learn more .