Blendtec makes high-tech blenders that look good and perform exceptionally well. Even the lowest-end Blendtec comes with durable blades and a massively-powerful motor. It's not a stretch to say Blendtec is one of the best blender brands out there today. But it's not head and shoulders above the rest. It has some stiff competition to contend with.
In this article, we bring you 6 Blendtec alternatives at different price points and functionalities. These blenders give Blendtec a run for its money.
Blendtec Alternatives Product Reviews
Vitamix E310 – The Entry-Level Alternative to the Budget Blendtec Total Classic Original Blender
Product highlights
The E310 is a sub $400 "entry-level" blender from Vitamix. It costs about as much as the low-end Blendtec Total Classic Original Blender.
The E310 is a straightforward blender with manual controls and a simple aesthetic. If you prefer manual controls over Blendtec's touch controls, this is a good choice.
The E310 comes with a 48oz jar, which is much easier to use and manage than the Total Classic's larger 75oz jar. Of course, the trade-off is the lower capacity.
Performance-wise, the E310 is as good as the Total Classic, if not better. The 2HP (approx 1500W) motor is powerful enough to crush the densest ingredients into a powder.
Jamba Blender 2.4 HP – As Good As the Blendtec Professional 750
Product highlights
The Jamba 2.4HP is a mid-range blender with a monster motor. It can go toe to toe with the high-end 1560W 750 Professional from Blendtec. And it costs much less.
Performance-wise, the Jamba 2.4HP can keep going all day and produce super-smooth beverages. It's highly durable – just like the 750.
When it comes to sound, the Jamba 2.4HP is extremely loud. The 750 comes with a sound enclosure for dampening. It's one of the quietest blenders in the market.
The 8-year warranty you get with the Jamba 2.4HP is nothing short of stellar. It's as good as the 8-year warranty you receive on the 750.
Vitamix A3500 – A Premium Blender to Match the Designer Blendtec 725
Power: 2.2 HP.     
Jar Capacity: 64oz. 
Speeds:  Variable infinite speeds. 
Pulse Control: Yes.  
Type of switches: Touchscreen. 
Dishwasher safe: Yes. 
Warranty: 10 years. 
Extra Features: Wireless connectivity, programmable timer, program settings, self-detect technology, self-cleaning, friction heating, and Vitamix vortex. 
Product highlights
The A3500 is a cutting-edge blender from Vitamix's newest Ascent Series. This high-end blender is the best of what Vitamix offers. It's arguably a slight upgrade to the premium Designer Blendtec 725.
The A3500 has high-tech features like a touchscreen, a programmable timer, and self-detect. This matches the similar modern features the Blendtec 725 sports, like an LCD, programmed cycles, precision speeds, and error detection.
The A3500 is a high-performance blender that offers perfect consistency and blending precision. It's slightly more robust and high-quality than the 725.
Vitamix's A3500 comes with an all-inclusive 10-year warranty. In comparison, the 725 only has an 8-year limited warranty.
The A3500 costs exactly the same as the 725. Both blenders are premium appliances that cost a bomb. But both should last for a good few years.
Cleanblend Commercial Blender – Cheaper than the Blendtec Connoisseur 825 Commercial Blender
Product highlights
The Cleanblend Commercial is extremely affordable – much more so than the high-end Blendtec Connoisseur 825. And it comes with a 5-year warranty to boot.
The Cleanblend Commercial has an impressive 1800W motor. Combined with the 8-edged stainless steel blades, this machine can go all day.
The Cleanblend Commercial is no slouch in the performance department. It's almost as good as the Blendtec 825. And it doubles as a food processor besides.
Unlike the 825, the Cleanblend is comparatively bare-bones. The 825 offers several premium features like a sound enclosure, 30 program settings, a touchpad, and customizable recipes.
Ninja CT810 – A Worthy Match for the Blendtec Classic 575
Product highlights
The Ninja CT810 is arguably the best blender in the Ninja lineup. It costs significantly less than the Blendtec 575, a mainstay of the Blendtec lineup while offering comparable performance.
The CT810 is a beautiful blender, as good looking as the Blendtec 575. Further, it also comes with a touchpad interface, making it similarly easy to use.
In comparison to the Blendtec 575, you'll find the Ninja CT810 more convenient if you're making small quantities of food. The 24oz tumbler is perfect if you want to take your drinks outside.
The CT810 has 10 Auto-iQ or pre-programmed cycles. The Blendtec Classic 575 only has 4.
The only drawback to buying the CT810 is the comparatively low 1-year warranty. The Blendtec 575 has a whopping 8-year warranty.
Breville BBL620SIL – Cheaper and Arguably Better than the Blendtec Classic Fit
Product highlights
The Breville BBL620SIL is a super-affordable blender from Breville. It's one of the best sub $200 blenders in the market today and is significantly cheaper than the most affordable Blendtec – the Classic Fit.
The BBL620SIL comes with a fabulous LC display and a timer function, although speed settings are absent. The Blendtec Classic Fit likewise comes with an LCD and touch buttons. It also only has a 30-second cycle.
The 1000W motor is significantly less powerful than the 1560W beast on the Blendtec Classic Fit. However, Breville manages to extract every iota of power from it. You can expect super-smooth blends.
The Breville does not have a to-go cup included in the box. The Classic Fit comes with a portable cup option, however.
Features that make Blendtec Blenders Unique
Patented 5-sided jar: Unlike most blender brands, Blendtec makes jars with 5 square sides. Instead of the ingredients spinning in circles, they bash up against the side of the jar. This disrupts the flow and causes them to fall back down in the blades, without you needing a tamper. You can expect super-fine blends in any Blendtec blender.
Durable safety blade: Blendtec makes its blades durable as well as dull. Compared to most other brands, Blendtec blades are 80% thicker and 10 times stronger. Further, these blades are safe to clean by hand because they're not sharp.
Touch interface: You don't need to babysit any Blendtec blender. All of them come with pre-programmed cycles for easy, walk away blending. Further, Blendtec blenders are very easy to use thanks to the touch interface.
Quality motor and socket: All Blendtec machines have powerful motors. The least powerful Blendtec machines have a massive 1560W motor – already overkill. Further, the motor spins a durable drive socket, which spins the blades in the container. The socket is metal, not plastic, and will last several years.
Warranty: Every Blendtec comes with a standard warranty, from 1 year ranging all the way up to 10. Blendtec warranties are better than average. You may need to pay for shipping, depending on your location, but the company covers everything else.
A few things to look for when considering Blendtec Alternatives
Warranty: Not all blenders have generous warranties. And you may end up needing the warranty if your jar cracks or the motor gives out. Some Blendtec alternatives – like Vitamix – come with generous warranties.
Blending power: Do you really need humongous blending power? If you want to make silky-smooth smoothies and want precise control over the consistency of your blend, you need a powerful blender – at least 1000W.
Versatility: Blendtec makes extremely versatile blenders. Not only can they make many things, but they also don't need you to be there in person. Just use one of the many pre-programmed settings. Not all brands offer pre-programmed cycles, especially for low-end models.
Making hot foods: Would you like a blender that can heat food? All Blendtec blenders come with friction heating. Few other brands have this feature.
Cost: Blendtec is a premium brand, so you will need to pay a significant amount for even the cheapest Blendtec. You can occasionally get a similar performance from a lower-priced machine – like the Breville BBL620SIL.
Quality: Blendtec blenders count amongst the most reliable, durable appliances in the market. They are perhaps not as durable as Vitamix blenders, but they are close. When purchasing other, possibly cheaper, brands, make sure to take the quality factor into account.
Blendtec makes exceptionally good, cutting-edge blenders. But they aren't the be all and end all of blenders.
The Jamba Appliances 2.4HP is as good as Professional-series Blendtec, performance-wise. It's also significantly cheaper. 
The Vitamix A3500 is perhaps the best alternative to a high-end, Designer Blendtec. Not only does it have similar high-tech features, but it's arguable more durable. And Vitamix always makes high-performance appliances.
Add Your Heading Text Here​
Add Your Heading Text Here​
Add Your Heading Text Here​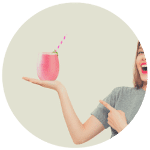 Hi, I am Charms, a self-confessed smoothie fanatic!  Here I will share some of my favorite smoothie recipes, tips and guides and gear reviews.   Learn more .