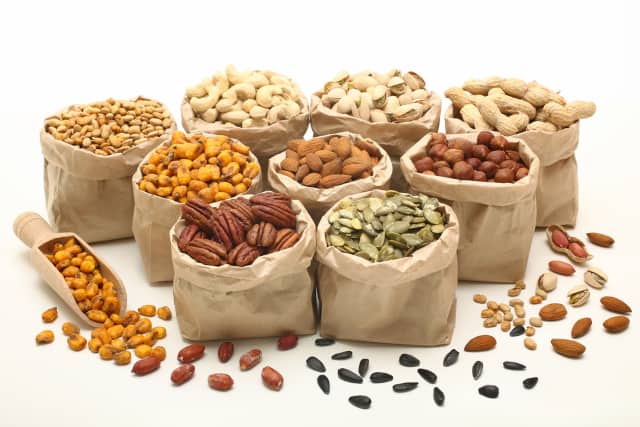 Nuts were considered food for the gods by the Romans.  Today they are an integral part of our diet.  Nuts are versatile, they can be used in salads, main dishes, desserts, and yes smoothies.  So, what are the best nuts for smoothies?  Have a look at our guide below for an in depth review.
Almonds are one of the most common nuts used in smoothies.  You can use almonds in the form of almond milk (homemade version is best), almond butter or simply use the almond nut. Almonds are a good source of vitamin e, magnesium and manganese.
Cashews are one of my favourite nuts.  Personally I enjoy them so much I am not inclined to use them in smoothies.  Cashews are the perfect standalone snack. 
Cashews also make sweet, creamy nut milk.  Add some cacao nibs, honey and a dash of cinnamon and you have the perfect chocolate nut milk smoothie.  Cashews are rich in copper, magnesium and manganese.
Yes Pecans can be added to smoothies.   Its not the first nut that comes to mind when you are making a smoothie, however, how about a Pecan Pie smoothie – or a Banana Pecan smoothie!  A little imagination is all you need.
The Pecans rich, buttery taste makes it the ideal ingredient for your smoothies.  An added benefit is Pecans are rich in zinc, thiamine and zinc.
Nut Butters vs. Raw Nuts in Smoothies
You can use nut butters or raw nuts in your smoothies.  Raw nuts are simply how they sound, they are simply the natural nut. 
There are a number of ways you can use them in your smoothie: you can blend them up whole, grind them up and sprinkle on your smoothie or make nut milk and use it as one of the liquids in your smoothie.  
Nut butters on the other hand  is a spreadable item made by grinding nuts into paste.  Some nut butters also have added oils, sugars and salts so read the label carefully if your nut butter is not homemade. 
You can have many types of nut butters and few that readily come to mind are cashew and almond butter. 
Smoothie recipes with nuts and seeds
We know you smoothie fanatics are dying to get your smoothie groove on!  Below you will find a few nut smoothie recipes for inspiration.  
Frequently Asked Questions
What are the top 3 healthiest nuts ?
I am not going to give you the top three nuts.  However, I will list Healthlines list of the top 9 nuts. Their list of top 9 nuts consist of: Almonds, Pistachios, Walnuts, Cashew, Pecans, Macadamia Nuts, Brazil Nuts, Hazelnuts, and Peanuts.
Is it good to put nuts in smoothies?
Yes it is .  Nuts add more nutritional power to your smoothie.  You can add nuts in the form of nut milk, nut butter, or simply grind them up and sprinkle them on top of your smoothie.
What are the healthiest things to put in a smoothie?
The beauty of smoothies is you can throw a bunch of ingredients in your blender, turn it on and you have a meal in your glass. 
Some healthy items to add to your smoothie are nuts, acai berries, goji berries, any type of berry, spirulina, chlorella, protein powder, greek yogurt, and chia seeds. 
Also please feel free to look at our list of smoothie ingredients if you need more inspiration.
What are the best seeds to add to smoothies?
Some of the best seeds for smoothies are chia seeds, flaxseeds, pumpkin seeds, sunflower seeds, hemp seeds, sesame seeds and wheatgerm.
Benefits of walnuts in smoothies
In Conclusion, Best Nuts for Smoothies
I hope you enjoyed our list of the best nuts for smoothies and you are planning your smoothie recipes for the next few days. 
Nuts are a nutritional powerhouse and can be easily added to smoothies in the form of nut milk, nut powder, or simply grind up the nuts and sprinkle them on your smoothie.  Let us know your favorite nuts for smoothies.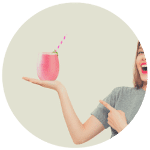 Hi, I am Charms, a self-confessed smoothie fanatic!  Here I will share some of my favorite smoothie recipes, tips and guides and gear reviews.   Learn more .