Bananas are my favorite ingredients in a smoothie. You can mimic the taste of a fruit punch, bananas are natural sweeteners, and if you want to thicken your smoothie, an extra banana will do the job.
You will find a diverse range of banana smoothie recipes on our list, from strawberry banana smoothies to peanut butter chocolate banana smoothies.
Common Ingredients for Banana smoothie Recipes
Berries, Strawberries, Mangoes, Peaches, Almond Milk, Any Nut Milk, Soy Milk, Coconut Milk, Papaya, Oats, and Coffee.
Agave, Honey, Maple Syrup,  and Stevia.
Other Banana Smoothie Add-ins
Cacao Powder, Vanilla Extract, Chia seeds, Flaxseeds, Cinnamon, and Collagen.
How To Make The Best Banana Smoothie
Bananas are one of the best fruits to use in smoothies since they are so versatile.
Bananas combine well with other fruits to make a fruit smoothie.
Alternatively, you can use bananas with nut milk and cacao powder to make a healthy milkshake.
Bananas are also great sweeteners for your smoothie and easily disguise the taste of usually unpalatable smoothie ingredients.
You can use ripe or frozen bananas, add a liquid and other smoothie products and blend these ingredients.
How To Freeze Bananas For Smoothies
If you have a surplus of ripe bananas, your best option is to freeze them.
First, peel the bananas, cut them up into 1/2-inch to 1-inch pieces, put them on a baking tray, and freeze them.
The next step is to put the bananas in a zip lock bag, remove the air from the bags, seal and place them in the freezer for easy access.
My mouth was watering just looking at this smoothie. This smoothie reminds me of the decadent milkshakes I used to have when I was younger and is one of the more fun and interesting smoothies on our list. 
However, now I have a healthy version of my childhood milkshakes. Almond milk now replaces dairy milk, and you have natural cacao powder and peanut butter, and it is sweetened with bananas.
The combination of mixed berries and bananas is always a win in my smoothie taste book.
Adding greek yogurt and almond milk gives this smoothie a nice, creamy texture. This smoothie is great for breakfast or if you need an energy boost during the day.
Mangos and Bananas this is a heady combination. The combination of mangoes, almond milk, and yogurts reminds me of mango lassi.
Bananas act as an extra sweetener. If you really want to sweeten your smoothie, you can add honey, agave, or maple syrup.
I love this unique combination of peaches and bananas. The addition of coconut milk gives this smoothie a great tropical theme.
With only four ingredients, this smoothie is easy to make and great for breakfast on the run or as a post-workout snack.
Hmmm…. how about getting your coffee fix and healthy breakfast smoothie in one!
This coffee banana smoothie is a great breakfast smoothie with coffee, bananas, almond milk, peanut butter, oats and cinnamon, and chia seeds.
I was intrigued when I first saw this recipe. I love the idea of chai spices and bananas in a smoothie!
Additionally, it's such a big change from the typical green and berry smoothies.
Adding nut butter makes this smoothie creamier, and you get an extra protein punch with chia seeds, flaxseeds, or hemp seeds.
This is a simple vegan banana smoothie recipe. Keep in mind; simple does not mean boring! Adding nutmeg and cinnamon to the oats and bananas makes this an intriguing recipe.
I like the fact that you get an additional nutritional boost with the addition of walnuts or pecans.
I am a big fan of sneaking vegetables into my smoothie. I love that this smoothie has cauliflower as one of its main ingredients.
The addition of spinach is an extra plus. The cacao powder and bananas in this smoothie easily disguise the taste of the vegetable ingredients.
It's hard to go wrong with the combination of strawberries and bananas.  These two smoothie ingredients were made for each other! 
All you need with this combination is a milk ingredient and some ice for a smooth slushy texture.
This smoothie is the perfect way to start the day! If you are looking for a breakfast smoothie packed with protein that gives you your coffee fix, this is the perfect one for you.
The combination of raspberry and banana is a hard combination to resist for your smoothie.
This recipe only has five ingredients which makes this recipe easy to prepare and perfect for those busy mornings or as an afternoon pick-me-up.
This smoothie is an adult version of a chocolate frosty. This rich, creamy smoothie made with cashew milk is spiced with cinnamon and cayenne pepper and sweetened with chocolate.
This creamy, delicious banana smoothie only has five ingredients and is perfect for a healthy smoothie breakfast or as a snack for a quick pick-me-up.
This smoothie also has extra fiber and protein with the addition of ground flaxseed and greek yogurt.
I firmly believe smoothies are a super-efficient way to get all of your fruits and vegetables in one go. However, who says we can't have some fun and be a bit decadent at times?
This thick, creamy peanut butter banana smoothie is the best way to start your morning. An added plus is the addition of peanut butter, and Greek yogurt gives you a healthy dose of protein.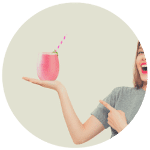 Hi, I am Charms, a self-confessed smoothie fanatic!  Here I will share some of my favorite smoothie recipes, tips and guides and gear reviews.   Learn more .